Fine Art By Jon L. Shepodd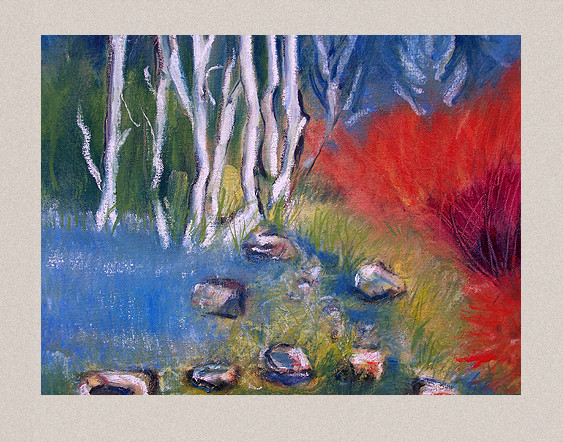 Welcome!
These landscape paintings were spawned by my infatuation with nature and my surroundings. Living in the woods has given me the inspiration and solace to attempt rendering my visions on canvas and paper and the nerve to share them. As a landscaper specializing in color I have endless opportunities to paint with plants, practicing for my next emergent artwork. Life is visual, see what I see through your own eyes.
Biography:
Born to an entertainment family in the early 50's,our village (Hollywood) provided the nurturing environment for my artistic development. Always into plants, I began to appreciate things around me,percolating for years until being exposed to the impressionist masters, a movement I could really relate to. By 15 our cavernous living room was now a studio with my easel in one corner(the same one I use today) and a few chairs for reluctant models to await their fate. Reining in my outrageous initial expressions, I began to eliminate the human form from my repertoire and focus on the landscape with special addiction to skies. One year long sojourn to Kauai became my Gauguin period creating daily watercolors, a series I'll always be proud of. Now landscaping in the Pacific Northwest ,my profession provides plenty of fuel for my newer works now mostly in oil. I have 4 amazing kids,4 beautiful grandchildren, am currently enjoying my marriage of 25 years,and live in Woodinville,Wa.
Shop:
Digital prints and greeting cards are available at Fine Art America, or by filling out the below form. Inventory includes canvas and watercolor paper Originals, as well as acrylic prints. If desired, custom matting and framing available.
Contact:
816 168th PL NE, Bellevue, WA 98008
JonLShepoddlandscape@hotmail.com
(206)919-2780